Metals Creek Resources Corp. Drills 1.21 g/t Gold Over 24.80 Meters At The Ogden Gold Project, Timm
Metals Creek Resources Corp. Drills 1.21 g/t Gold Over 24.80 Meters At The Ogden Gold Project, Timmins, Ontario.
Toronto, February 21 2018. Metals Creek Resources Corp. (TSX-V:MEK) (Metals Creek or the "company") is pleased to announce drill results from its recently completed five hole diamond drill program, totaling 1104m (meters), targeting Thomas Ogden West mineralization (TOG West) located in the heart of the Timmins gold camp.
Five holes were drilled in the TOG West area focusing on the continuation of the fold structure west of the Thomas Ogden Zone previously intercepted in hole OG17-02 (see news release May 03, 2017) which returned an intercept of 4.96 g/t gold over 3.97m and a second zone of mineralization returning an intercept of 1.43 g/t gold over 14m. The TOG West mineralization is a new discovery, interpreted to be an easterly plunging zone parallel to the Thomas Ogden Zone (TOG) and approximately 900m west of the TOG.
Hole TOG17-60, drilled approximately 200m east of OG17-02 and targeting the down plunge extension of TOG West mineralization, retuned two zones of mineralization. The first zone of mineralization returned a down hole intercept of 8.37 g/t gold over 2.0m (96.0m to 98.0m) with associated pyrite mineralization and strong silicification. (Visible Gold was noted in this intercept). A second zone of mineralization was intercepted further down hole returning an intercept (170.5m to 195.30m) of 1.21 g/t gold over 24.8m with strong albitization and associated pyrite and arsenopyrite mineralization. Both intercepts are hosted within altered conglomerates.
Significant folding was present in this hole which appears to be an important factor in the emplacement of higher grade gold mineralization. These two intercepts in hole TOG17-60 are interpreted to be a part of the same stratigraphy with folding causing a repetition of the mineralized horizon.
A drill rig has been mobilized to the Ogden Project targeting multiple areas on the property. Results will be released once they are received and compiled. (See news release dated 14 Feb 2018).
Results from all drill holes in the recent program are included in table 1 below:
| | | | | | |
| --- | --- | --- | --- | --- | --- |
| Hole # | From | To | Interval (m)* | Gold (g/t) | Comments |
| TOG17-57 | 59.70 | 62.30 | 2.6 | 1.57 | Strong silicification, py |
| TOG17-58 | 238.0 | 245.0 | 7.0 | 0.83 | Strong silicification |
| TOG17-59 | 108.95 | 118.0 | 9.05 | 0.85 | Strong silicification |
| TOG17-60 | 96.0 | 98.0 | 2.0 | 8.37 | VG present |
| and | 170.50 | 195.30 | 24.8 | 1.21 | Strongly albitized, py-aspy |
| TOG17-61A | 74.15 | 75.10 | 0.95 | 4.46 | Above hole TOG17-60 |
* Reported drill intercepts are not true widths. At this time there is insufficient data to calculate true orientations.
A drill section is attached and a drill plan map is available on the company's website at www.metalscreek.com.
The Property is held under a joint venture in which Metals Creek owns 50%, and Goldcorp Canada Ltd. ("Goldcorp") owns 50% (as manager and on behalf of the Porcupine Joint Venture, a joint venture between Goldcorp Inc. and Goldcorp Canada Ltd.) with MEK being the operator of the project. The Ogden claims cover eight kilometers of strike length of the Porcupine-Destor Fault between Goldcorp's >16.6 million ounce Dome Mine and Tahoe Resources West Timmins Mine. The vast majority of the Porcupine-Destor Fault on the property is underexplored, compared to other properties in the Timmins Gold camp.
Michael MacIsaac, P.Geo and VP Exploration for the Corporation and a qualified person as defined in National Instrument 43-101, is responsible for this release, and supervised the preparation of the information forming the basis for this release.
About Metals Creek Resources Corp.
Metals Creek Resources Corp. is a junior exploration company incorporated under the laws of the Province of Ontario, is a reporting issuer in Alberta, British Columbia and Ontario, and has its common shares listed for trading on the Exchange under the symbol "MEK". Metals Creek has earned a 50% interest in the Ogden Gold Property, including the former Naybob Gold mine, located 6 km south of Timmins, Ontario and has a 8 km strike length of the prolific Porcupine-Destor Fault (P-DF) that stretches between Timmins, Ontario and Val d'Or, Quebec. Metals Creek also has an option agreement with Quadro Resources on Metals Creeks and Benton Resources Staghorn Gold Project in Newfoundland as well as two option agreements with Anaconda Mining Inc. on Metals Creek's Jacksons Arm and Tilt Cove Properties also in Newfoundland. The company have also signed a LOI on its Clarks Brook property with Sokoman Iron Corp. and is engaged in the identification, acquisition, exploration and development of other mineral resource properties, and presently has mining interests in Ontario, Yukon and Newfoundland and Labrador including the recently acquired Great Brehat project on the Great Northern Peninsula of Newfoundland. Additional information concerning the Corporation is contained in documents filed by the Corporation with securities regulators, available under its profile at www.sedar.com.
Neither the TSX Venture Exchange nor its Regulation Services Provider (as that term is defined in the policies of the TSX Venture Exchange) accepts responsibility for the adequacy or accuracy of this release.
Alexander (Sandy) Stares, President and CEO

Metals Creek Resources Corp
telephone: (709)-256-6060
fax: (709)-256-6061
email: astares@metalscreek.com
MetalsCreek.com
Twitter.com/MetalsCreekRes
Facebook.com/MetalsCreek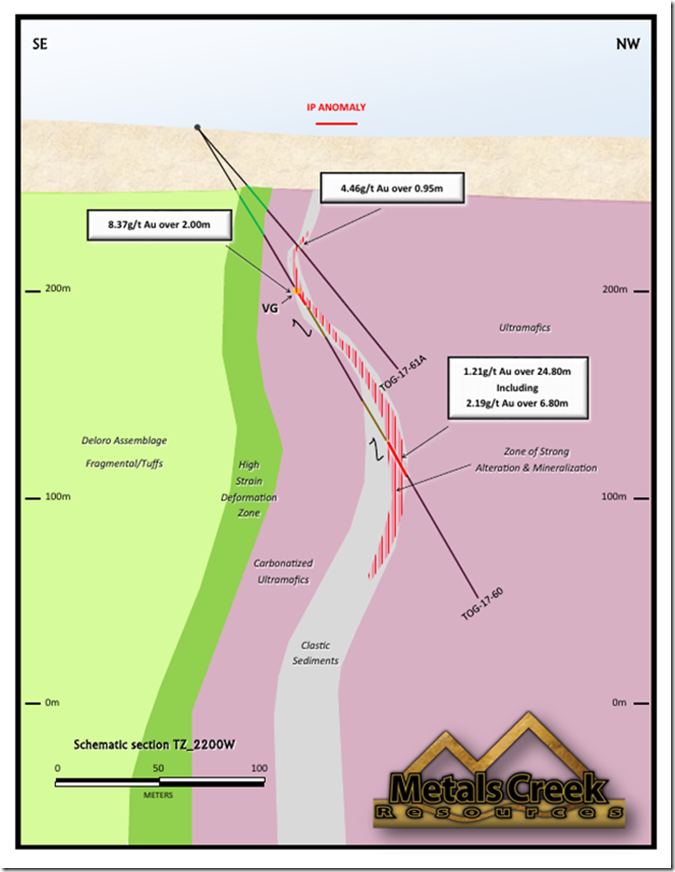 Click to view larger image