MEK RELEASES RESULTS FROM FINAL TWO DRILL HOLES AND ANNOUNCES NEW GOLD SHOWING SOUTHEAST OF OGDEN
METALS CREEK RESOURCES RELEASES RESULTS FROM FINAL TWO DRILL HOLES AND ANNOUNCES NEW GOLD SHOWING SOUTHEAST OF THOMAS OGDEN ZONE - TIMMINS, ONTARIO
Toronto, June 05, 2017 - Metals Creek Resources Corp. (TSX-V:MEK) (the "Company") is pleased to announce that results have been received from the final two holes of a four hole 980m (see MEK news release March 30, 2017) diamond drill program designed to further evaluate stratigraphy west of TOZ.
Hole TOG-17-53 was a 75m undercut below previously released hole TOG-16-48 (See news release January 11, 2017) which intersected 4.39 grammes per tonne (g/t) gold over 12.45m. Hole TOG-17-53 intersected the zone at a down-hole depth of 322m and assayed 2.11 g/t gold over 1.0 m. This intersection is typical of the Thomas Ogden Zone (TOG) and is described as a strongly altered conglomerate characterized by strong silicification with associated disseminated pyrite and local arsenopyrite. A second zone of mineralization was intersected at a downhole depth of 332meters (m) returning an intercept of 1.85 g/t gold over 2.43m. This second zone consisted of altered conglomerate with moderate to strong silicification with 3-4% pyrite and local arseonopyrite.
Hole TOG-17-54 was drilled 435m west of TOG targeting the TOG west stratigraphy near surface, intersecting at a down hole depth of 177.77m returning 1.08 g/t gold over 1.38m. This zone was characterized by a strongly silicified felsic dike with associated pyrite mineralizaton. The prospective host rock at Thomas Ogden West indicates a thickening of the stratigraphy with depth.
Three holes of this four-hole program focused on further delineating recently discovered gold mineralization (See news release May 3, 2017) west of TOG. Hole OG17-002 intersected two zones of gold mineralization including 4.96 g/t gold over 3.97m and a second zone returning an intercept of 1.43 g/t gold over 14m confirming the presence of a new zone of mineralization west of TOG with similar alteration features to that of TOG as well. Hole OG17-002 was a follow-up hole to that of OG16-040 (see news release March 4, 2016) which returned a downhole intercept of 5.06 g/t gold over 2.6m thus further defining an easterly plunging mineralized system. The long-section below can also be viewed on the corporate website at http://metalscreek.com/article/ogden-315.asp.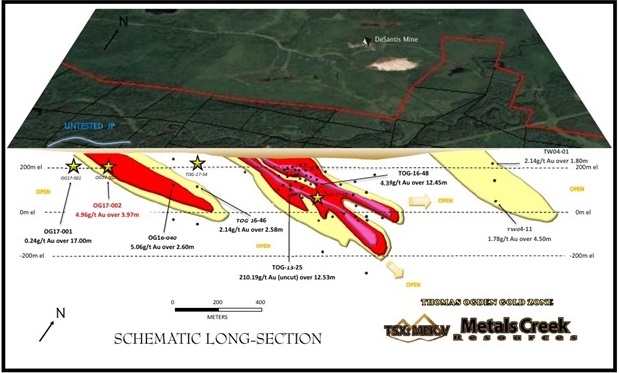 Reported drill intercepts are not true widths. At this time there is insufficient data to calculate true orientations.
The company is also very pleased to announce that a short prospecting program has led to the discovery of a new mineralized gold showing approximately 465 meters southeast of the Thomas Ogden Zone. This new mineralization is characterized by strongly brecciated albitization, silicification with associated pyrite and stringer style arsenopyrite.. Due to the nature of the pervasive and brecciated alteration, primary textures have been overprinted. Results from grab samples range from 23 parts per billion (ppb) Gold to 1340 ppb Gold. Pyrite and arsenopyrite percentages range from 2-15%, co-incident with a 600m long moderate to strong Induced Polarization (IP) ground geophysical chargeability anomaly. Given the extensive overburden cover, mineralization has only been located in one location to date. The Company is in the process of applying for trenching and drilling permits on the new discovery.
The surface grab samples mentioned in this release are selective by nature and are unlikely to represent average grades of the property.
Alexander (Sandy) Stares, President and CEO of MEK states "Finding a new surface gold showing on the Ogden property is extremely encouraging, especially given the mineralization is located 465 meters southeast of the Thomas Ogden Zone with similar alteration features. Trenching and drilling permits are currently being completed and work will commence on the new discovery as soon as permits are received".
The Ogden Property is held under a joint venture in which Metals Creek owns 50%, and Goldcorp Canada Ltd. ("Goldcorp") owns 50% (as manager and on behalf of the Porcupine Joint Venture, a joint venture between Goldcorp Inc. and Goldcorp Canada Ltd.) with MEK being the operator of the project. The Ogden claims cover eight kilometers of strike length of the Porcupine-Destor Fault between Goldcorp's 16 million oz. Dome Mine and Tahoe Resources West Timmins Mine. The vast majority of the Porcupine-Destor Fault on the property is underexplored, compared to other properties in the Timmins Gold camp.
All split core and grab samples were sent to Activation Laboratories, an accredited laboratory in Ancaster, Ontario. The precious metals were analyzed utilizing a standard fire assay with an atomic absorption finish. As part of the Corporations QAQC protocol, approximately 10% of the samples submitted for assay were also sent for check assays. Standards and blanks were inserted randomly into the sample shipments as part of the sampling protocol. Samples with fire assay results above 1.0 g/t gold are re-analyzed using a gravimetric finish and samples with fire assay results above 5.0 g/t gold or samples showing visible gold are analyzed using the pulp metallic method.
Michael MacIsaac, P.Geo and VP Exploration for the Corporation and a qualified person as defined in National Instrument 43-101, is responsible for this release, and supervised the preparation of the information forming the basis for this release.
About Metals Creek Resources Corp.
Metals Creek Resources Corp. is a junior exploration company incorporated under the laws of the Province of Ontario, is a reporting issuer in Alberta, British Columbia and Ontario, and has its common shares listed for trading on the Exchange under the symbol "MEK". Metals Creek has earned a 50% interest in the Ogden Gold Property, including the former Naybob Gold mine, located 6 km south of Timmins, Ontario and has a 8 km strike length of the prolific Porcupine-Destor Fault (P-DF) that stretches between Timmins, Ontario and Val d'Or, Quebec. The Company has also recently entered into an Option/JV with Trifecta Gold Ltd. on Metals Creek's Squid properties in Yukon. Metals Creek also has a JV with Benton Resources on Metals Creeks Staghorn Gold Project in Newfoundland as well as two option agreements with Anaconda Mining Inc. on Metals Creek's Jacksons Arm and Tilt Cove Properties also in Newfoundland. The company is engaged in the identification, acquisition, exploration and development of other mineral resource properties, and presently has mining interests in Ontario, Yukon and Newfoundland and Labrador. Additional information concerning the Corporation is contained in documents filed by the Corporation with securities regulators, available under its profile at www.sedar.com.
Neither the TSX Venture Exchange nor its Regulation Services Provider (as that term is defined in the policies of the TSX Venture Exchange) accepts responsibility for the adequacy or accuracy of this release.
Alexander (Sandy) Stares, President and CEO
Metals Creek Resources Corp
telephone: (709)-256-6060
fax: (709)-256-6061
email: astares@metalscreek.com