Gold Mineralization on the Shabaqua Corners Gold Property
Metals Creek Discovers Second Zone of Gold Mineralization on the Shabaqua Corners Gold Property
Thunder Bay Ontario, 20 June, 2023 - Metals Creek Resources Corp. (the "Company" or Metals Creek, TSXV: MEK, FRA:M1C1) is pleased to announce the discovery of a second zone of gold mineralization through prospecting on its recently acquired Shabaqua Corners property.
The property is located within the Shebandowan Greenstone Belt, approximately 54 km west of Thunder Bay, Ontario near Shabaqua Corners and on trend to Delta Resources Delta 1 project. The property has seen very little exploration work.
This round of field activities on the Shabaqua Corners Gold Property concentrated on areas outside of the main zone mineralization, which is hosted within an east-west trending zone of silicification, pyritization and pervasive carbonate alteration. Nine samples were collected 235m northwest of the main mineralized zone (See news release: May 25, 2023) (See table 1 below, assay results), with assays ranging from 0.084 to 3.45 grams per tonne (g/t) Gold (Au). Gold mineralization is hosted within an altered conglomerate with associated quartz-carbonate veining and local stockwork striking roughly the same orientation to that of the main zone.(see figure 1 below, echo zone location). Alteration consists of pervasive iron carbonate with strong silicification and mineralization entails trace to 5% disseminated to stringer pyrite with trace arsenopyrite and galena also present.(see figure 2 below, sample GCS-23-017). An exploration permit has been applied for so trenching in this and other areas on the property can take place when the permit is received. (Note: The surface grab samples described in this news release are selective by nature and are unlikely to represent average grades of the property.)
Prospecting and geological mapping is ongoing with the aim of further delineating known gold mineralization along strike as well as continuing to evaluate other portions of the property. MEK is targeting potential parallel gold bearing structures as demonstrated within other projects within the Shebandowan Greenstone Belt.
Alexander (Sandy) Stares states "these assay results confirm the presence of gold mineralization outside of the known historical gold mineralization. Permits have been applied for and we are excited to begin trenching prospective targets once permits have been received."
| | |
| --- | --- |
| Sample Number | Gold Parts Per Billion |
| GCS-23-010 | 313 |
| GCS-23-011 | 178 |
| GCS-23-012 | 406 |
| GCS-23-013 | 84 |
| GCS-23-014 | 688 |
| GCS-23-015 | 398 |
| GCS-23-016 | 1590 |
| GCS-23-017 | 3450 |
| GCS-23-018 | 1260 |
Table 1 Assay Results
The eastern boundary of the property is located 1.57 kilometers(km) west of Delta Resources (DLTA) drill hole DL-22-18 which returned an intercept of 5.92 g/t Au over 31m (Source: Delta New Release October 31, 2022). Trenching conducted on Delta's ground 390m east of the property boundary, returned an interval of 2.22 g/t Au over 8m (Source: Delta Resources Website).
All samples were sent to Activation Laboratories. The precious metals were analyzed utilizing a standard fire assay with an atomic absorption finish.
Michael MacIsaac, P.Geo and VP Exploration for the Corporation and a qualified person as defined in National Instrument 43-101, is responsible for this release, and supervised the preparation of the information forming the basis for this release.
About Metals Creek Resources Corp.
Metals Creek Resources Corp. is a junior exploration company incorporated under the laws of the Province of Ontario, is a reporting issuer in Alberta, British Columbia and Ontario, and has its common shares listed for trading on the Exchange under the symbol "MEK". Metals Creek has earned a 50% interest in the Ogden Gold Property from Newmont Corporation, including the former Naybob Gold mine, located 6 km south of Timmins, Ontario and has an 8 km strike length of the prolific Porcupine-Destor Fault (P-DF). In addition Metals Creek owns and/or has option agreements in place to acquire a 100% interest in claims in the Shabaqua Corners area of North western Ontario.
Metals Creek also has multiple quality projects available for option which can be viewed on the Company's website. Parties interested in seeking more information about properties available for option can contact the Company at the number below.
Additional information concerning the Company is contained in documents filed by the Company with securities regulators, available under its profile at www.sedar.com.
Neither the TSX Venture Exchange nor its Regulation Services Provider (as that term is defined in the policies of the TSX Venture Exchange) accepts responsibility for the adequacy or accuracy of this release.
Alexander (Sandy) Stares, President and CEO
Metals Creek Resources Corp
telephone: (709)-256-6060
fax: (709)-256-6061
MetalsCreek.com
Twitter.com/MetalsCreekRes
Facebook.com/MetalsCreek
Figure 1 echo zone location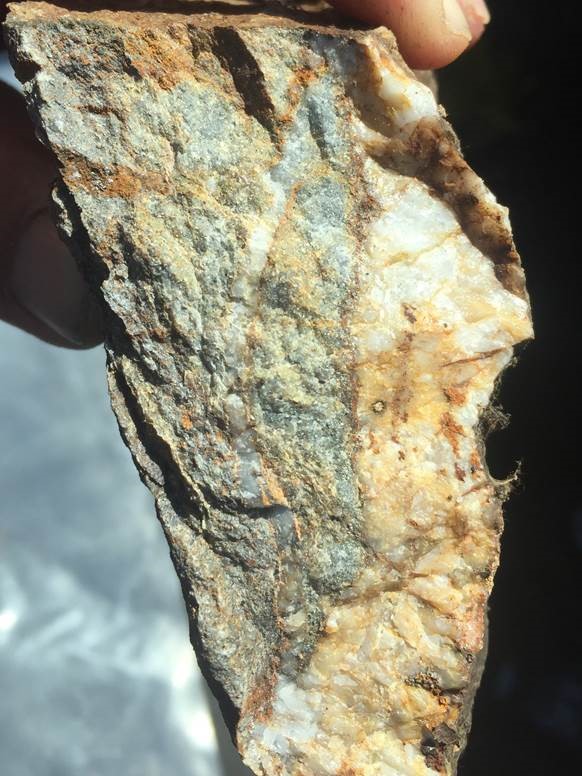 Figure 2 sample GCS-23-017